Joined

Dec 27, 2010
Messages

2
Reaction score

0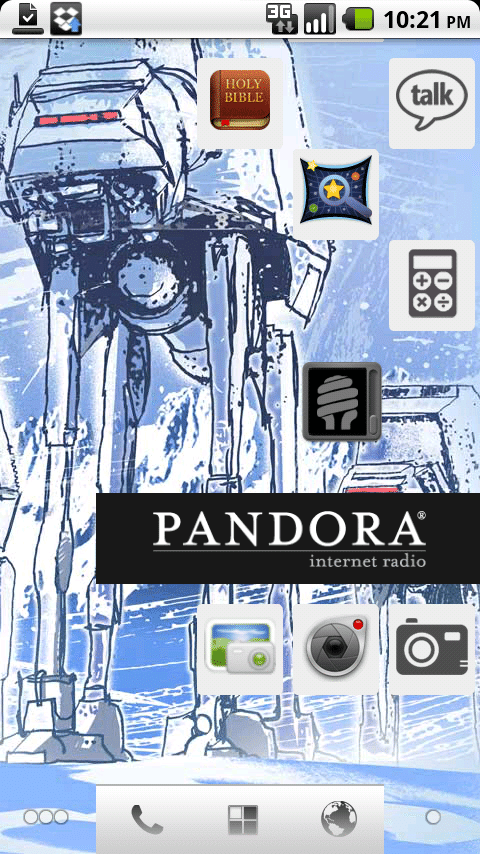 So! I got an R2D2 Droid 2 for Christmas (yay!) and wanted to expand the R2d2 theme. I decided to make a
Hoth
theme to start with.
I am using the static
AT-AT sketch
wallpaper as the starting point for this theme. It will also be perfect with the
Tauntaun sketch
,
C-3PO
, the
AT-AT poster
, or the light blue
Empire Strikes Back poster
wallpapers. Any of the black, gray, or blue wallpapers (like the R2D2 body, or the lightspeed live wallpaper) will work as well, although I might make something more colorful if I switch to one of those.
Launcher: ADW**
Base theme: Pearly White TW (free in the market)
I chose Pearly White because the icon style is slick and white like all of the Rebel Alliance tech in Star Wars, and quite a few icons are supported.
Tweaks:
Note: These three theme mods are made in the ADW settings, which is under Desktop > Menu button > More > ADW Settings
* Desktop icons the right size: Screen Preferences > Hide icon labels (X), Desktop Columns (5), Desktop Rows (8)
* App drawer icy blue: Drawer Settings > Background color (#41002fff, or just pick a dark blue and turn down the alpha to about a quarter)
* Dock match the other icons: UI Settings > Main Dock Style (3), Desktop dots (X), AB size (5), Dock Icons Tint (X), Tint Color (#ff0a0a0a, or pick a dark gray)
* Wallpaper - set to "wallpaper_6atat2"
* Widget - R2D2 clock 3x2 on the home screen
If I missed anything that you see in the screenshots and that you're curious about, please PM me and I'll update this post.
Also, if you figure out a way for the icons to not be smushed in the desktop horizontal view, please post or let me know!
When I get tired of Hoth, I will likely try something different for good ol' Artoo, so keep an eye out for a colorful Dagobah theme or a military Boba Fett theme in the future.
** My phone is running Droid 2 Fission. My boyfriend and I decided to hack it to make future updates easier and to have access to more custom ROMs. I saved all of the R2D2 special wallpapers and widgets before I wiped my phone for the new installation. If you want to see how we did this, go to
http://www.droidforums.net/forum/dr...-r2-d2-droid-2-keep-all-r2-d2-theme-bits.html
.
Last edited: