7/15/2012 *605.9* BULLYDESENSED *V1.7 FINAL* Released - TeamVicious Production
Build Version:
, by (
Developer
)
Developer Last Online: May 2013
---
Category:

[ROM]

Build Version:
Rating:
Released: 07-15-2012 Last Update: Never Installs:

0

No support by the author.
Hello All! TeamVicious would like to present: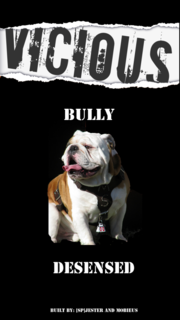 THE MOST STABLE 2.1 ROM ON THE SCENE IS BACK ONE MORE TIME!
What this ROM Has:
-Rooted (Superuser/Busybox 2.3.2)
-Ziggy's 11-05 Kernel
-TweakedBase 2.11.605.9 (Stock base)
-Speed and Stability
-Quick settings and menu from Happy Trails
-Custom Settings Menu from iKream
-Preloaded Goodies that are usefull!
-Latest Play Store aka Market w/ Gtalk Video
- SUPER DESENSED
Whats expected to come:
-N/A
Bugs: None that im aware of just yet
---------------------------------------------------------------------------
Changelog for 1.7
-Final Build, Rom State = COMPLETED
- Added Car Panel Back
- Added Dock Mode
-Added Voice Recorded
-Updated Apps


Changelog for 1.6
- Updated some Systemsettings
- Fixed HTC Lockscreen for pattern
- Disabed USB mount to pc on boot
- Fixed update script
- Updated Apps
- Fixed a tweak script error
Changelog for 1.5 FINAL BUILD (Rom Status: Completed)
-Included Default browser for you complainers
- Added HTC 605.19 Keyboard back in stock
-System and Data are now Ext4
-Smoother running
-Fixed install script, Wipes EVERYTHING correctly now
-Should of fixed first boot problem with the improved wipe script
Changes to 1.4
- Tweaked build.prop to be quicker
- Updated All Apps once again
- Downgraded Camera to default
- Added uCam for Panorama/alternative camera people like me
- Updated some MMS files in order to fix a possible glitch
- Uknown Sources on and Auto Rotate off by default now
- Attempted a few contact sync fixes
- Included Facebook's latest
*THIS ROM iS DANGEROUSLY STABLE*
Changelog for 1.3 FINAL STABLE
- Updated Framework files
- Changed some build.prop tweaks and cleaned it up.
- Updated the apps pre-installed
- Updated Camera apk (Testing)
- Added any lib/bin/or system files from 605.19 that weren't originally in 605.9
- Added ringtones and sounds from the One X
- Added more Fonts to the ROM from One X
- Added HTC Connected Media back in
- Added HTC Music back in and removed aosp version
- Should run a little smoother, forgot to bump up davlik again from 48m to 64m
- New Boot animation if you havnt noticed since the last build
- Fixed a Bug with some apps not showing up
- Double checked LCD Density, looking further into possible market issues..
- Changed Default wallpaper to give that Sense 4 ICS Feel
And Finally
- *FIXED ****ING CAMCORDER*
JUST FLASH IT AND BE HAPPY!
BULLY's KICKIN ASS!
NOTE: FOR THOSE WHO WANT TO STREAM VIDEO, LIKE A .AVI or .MP4 file, or etc.. I suggest
downloading Maxthon Browser from Play Store. Has a built in streaming capability
-----------------------------------------------------------------------------------
Changelog V1.25
- Changed to 605.9 base
-Updated alot of things
-Added some tweaks
-Custom Kernel cooked in (Ziggys)
-----------------------------------------------------
Hello everyone, as by now you should know us as teamvicious, we arent very happy we couldnt get mms fixed on MIUI. But we will never give up hope, till then we are tinkering with SENSE to see if we can bring it alive some. I for one am not a fan of sense 3.0, so i dnt use it. 2.1 was fine because i usually replaced it with launcher pro or something. I hope you enjoy the rom
and see that we are still attempting to develop for you guys. Stick around
SCREENSHOTS: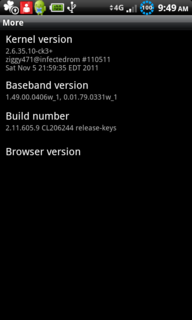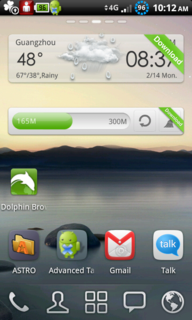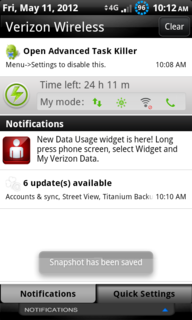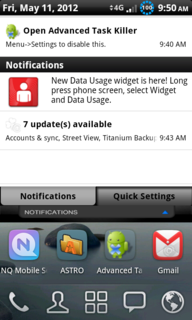 Credits:
Thanks to
Droid Vicious
Mobieus
NOTE: AFTER FIRST BOOT AND SETUP, OPEN NO FRILLS AND SET THE MAX CPU SPEED TO YOUR DESIRED SPEED
TO KEEP FROM LAGGING.
NOTE2: FIRST BOOT TAKES A BIT TO START BE PATIENT AND LET IT SETTLE IN!
Download Links
DOWNLOAD 1.7 HERE
MD5: 17a9994015812d6d360689fb5392db9f

DOWNLOAD 1.6 FINAL HERE
MD5: 77b84c4966f80a4743a70f65119d03c5
MODS/TWEAKS
FOR THOSE WHO DONT WANT VOLUME WAKE
-Open /system/build.prop
-Find:
ro.config.
hwfeature_wakeupkey=0
-Change =1 to a =0
Flash as you would any other ROM, wipe cache and dalvik, you know the drill by now.I'm not accountable for anything you did to your phone,
you chose to flash it, not me.
DONATE IF YOU LIKE MY WORK ENOUGH BY CLICKING THIS LINK, THANKS!
Show Your Support
This modification may not be copied, reproduced or published elsewhere without author's permission.