[Rom]-Ineffabilis-Deus-alpha-ICS 4.0.3 sense 3.6 "STABLE"[1-22-12]
Build Version:
, by (
Developer
)
Developer Last Online: Jan 2012
---
Category:

[ROM]

Build Version:
Rating:
Released: 01-20-2012 Last Update: Never Installs:

3

Theme: Custom
No support by the author.
YOU SCREAM!!!!! I SCREAM!!!! WE ALL SCREAM FOR ICE CREAM!!!!!
This is a fully functional leaked rom based on 3.10.605.13 ice cream sandwich and sense 3.6 for Htc rezound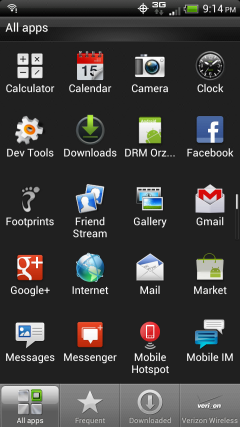 Features
Features
*ext 4 Stock ics kernel
*base 3.10.605.13 leaked RUU
*4.0.3 Ice cream sandwich
*Sense 3.6
*Rooted
*deodex
*zipaligned
*busybox
*debloated
*all gaps are newest
*RAMSCRIPT
*sdcard readhead
*contact pic script
*battery Calibration
*Visual Voice mail
*MMS
*On Live
*Movie Editor
*Fully working weather features
*Fixed Data to connect automatically
*Removed alot of useless files
*Very stable rom for leak
*a few more things i dont remember
this rom probably wont be updated until i get a new leak because theres really nothing i want to add to a test build... once we are released then you will see something great
Disclaimer:
Please remember that I will not be held responsible for anything that happens to you phone.
Flashing a custom rom will void your warranty
Flashing this rom will WIPE your phone. Please perform a Nandroid before flashing
DOWNLOADS
ENJOY!!!!!
Show Your Support
This modification may not be copied, reproduced or published elsewhere without author's permission.