[AOKP M5][Toro] Simple Swagger
Build Version: 1.0
, by (
Theme Developer
)
Developer Last Online: Jan 2014
---
Category:

[THEME]

Build Version: 1.0
Rating:

(1 votes - 5.00 average)

Released: 05-06-2012 Last Update: Never Installs:

0

Theme: Custom Base Version: AOKP M5 Toro Compiled From: Source
Supported
Simple Swagger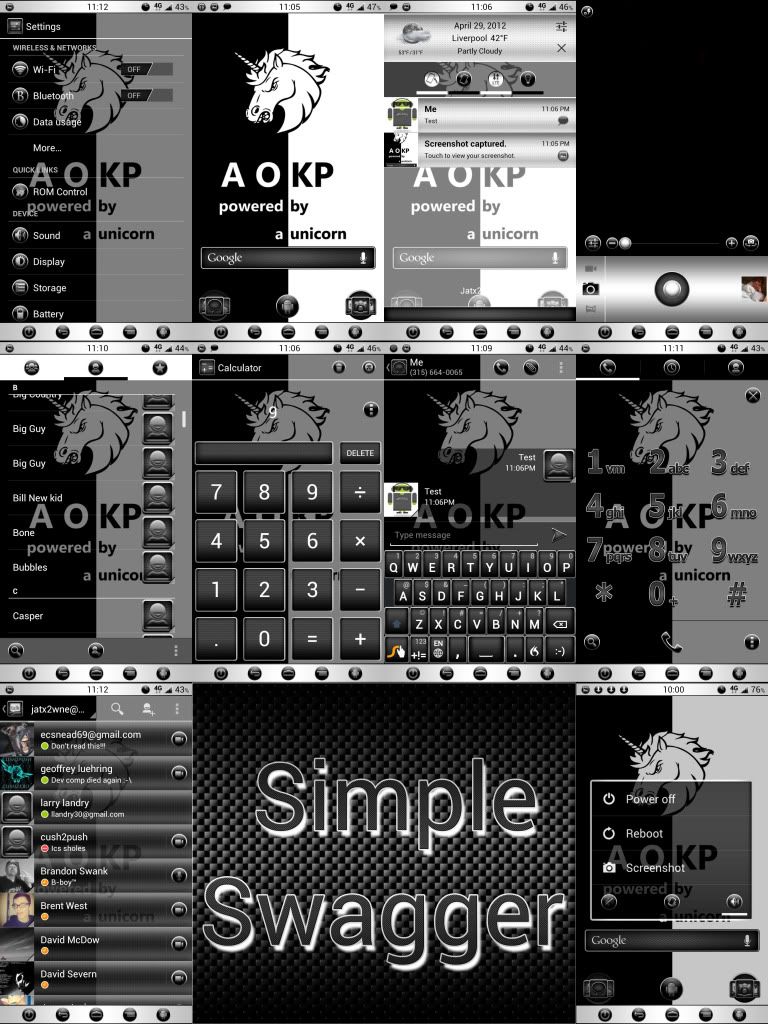 Whats Themed:
Browser
Calculator
Camera
Contacts
DeskClocK
Email
Framework-res
Genie Widget
Gmail(inverted credit to Travp)
Launcher(only to add walls)
Mms
Phone
RomControl
Settings
SystemUI
Talk(transparent credit to Bboy)
Whats In the Works:
Battery icons(I only use percent so havent gotten to them yet)
Market
Calendar
Music
Any suggestions people may have
Hopefully additional devices and roms
Credits:
All of teamkang for the hard work they put into this amazing rom
Bluewall for the wall in screenshots and a couple others included in the rom
Travp for all of his work inverting gapps
Bboy for all of his work theming apps and other help
Anyone I may have forgotten(if you feel you should be here I apologize let me know and Ill add you)

Disclaimer:
Neither I nor this website are responsible for what anyone does with there phone, while this has been tested by me it is possible that you may run into issues so make a backup if you choose or dont but dont blame others for your decisions. Also besides the couple things mentioned above all of this work is original and done by me so please do not just steal my work, if you would like to use something from me simply get in contact with me. Thanks
Install Instructions:
Flash main theme from recovery reboot, then boot back into recovery and install the second zip in order to fully theme gtalk. Also if you have Gmail installed from the market you will need to uninstall any updates.

Download Links:
AOKP M5 Toro http://www.mediafire...oqkap9nbojeo7m7
Aokp M5 Toro http://www.mediafire...mim4kkvc6bjaep4
Show Your Support
If you like this modification support the author by donating.
This modification may not be copied, reproduced or published elsewhere without author's permission.