[ROM]-[MikRoms]-Incredible 2 HD Rls 1[sense 3.5 GB 2.3.5] very stable lots of option
Build Version: RLS 1
, by (
Developer
)
Developer Last Online: Jan 2012
---
Category:

[ROM]

Build Version: RLS 1
Rating:

(3 votes - 5.00 average)

Released: 09-24-2011 Last Update: Never Installs:

14

Theme: Custom Base Version: Gingerbread 2.3.5 / Sense 3.5 Compiled From: Sense 3.5
Supported Deodexed
INCREDIBLE 2 HD



Ok for all you guys that don't know this rom is my baby and its getting the royal treatmeant, so if you have a incredible 2 this is the rom you want on it trust me.... This rom is based on the HTC Runnymede it has sense 3.5 with the latest OS that hasnt even been released to the public gingerbread 2.3.5... This rom is loaded with all the goodies from HTC, Android, RCmix, Aamikam, and myself. it runs like it was made for our deviceand a lot of that has to do with the Runnymede's specs which almost match the incredible 2 to the Tminus the 3.0 bluetooth. Give it a flash and i guarantee you will find it hard to flash anything else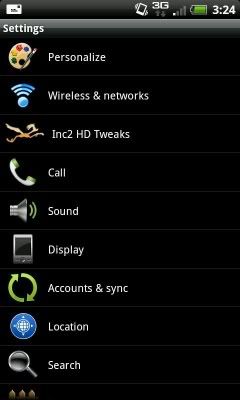 CHANGELOG
RLS 1

this will be an official build as it is almost bugless
Ext4
NEW kernel built just for this rom Thanks dressilldee aka GMA
deodex and (odex coming soon)
special zipalign script on boot
new sdcard readahead script
special script to remount ext4
cleaned up the framework and optimized it
fixed all the crazy words like (low space)
rewrote camera to work right
fixed advanced power menu
cleaned up some apks (still havent opted them rls 2 will be fully opted)
fixed cam & volume wake tweaks
added a few more tweaks
* hide navbar text
*super scroll rosie
updated market to latest
updated themikmik forums
fixed auto brightnesss right this time
added my custom mixed aniamtions
fixed crt to work with tweaks
fixed funky images in the phone.apk
fixed beats icon in status bar
fixed alignment issues with app drawer
added new quicklaunch
and of course big thanks to dress for fixing kernel to work for USB mount
im sure theres more i just dont remember right now

FULL WIPE GUYS!!! DON'T RESTORE DATA


[SPOILER=Older Versions]V4.0.3

Fixed USB mount
added option to change columns in app drawer
added volume wake option
added super scroll option for rosie
Fixed option to turn off and on CRT in tweaks
added resized quicklaunch widget (much better)
theres 2 tweaks that were added i need to fix and they are (softkey tweak & camera volume key plz dont report they dont work i am aware)
WIPE CACHES ONLY!!! FLASH AND ENJOY

V4.0.2


Added my own custom init.d scripts
*Supercharger
*sdcard read ahead
*Ext4 remount
*Darky Zipalign
*Updated Ramscript
*systemtweaks
*Screenstate scaling
Added CRT first ever for 3.5 on inc2
Added my own custom MIXED transition animations
Added more speed and battery tweaks
updated build prop


Patch v4.0.2


fixed wrong sizes in apks
fixed camera stretching pics
adjusted mms
fixed contacts force close






v4.0.0


New base 1.02.40.1 Release keys
New tweaks
Tweak: switch bliss rosie
Tweak: enable smooth rosie scroll
Ext4
dres # 20 kernel
zipaligned on boot
"only framework optimized so far"
all languages included in the version
all features from previous version still in this one


NOTE: this new base will be the final base unless htc includes a major bug fix in other RUU's so once i go through and optimize and tweak everything and release all further updates will be flashover, but for now i need feedback and bugs so i can fix them as i tweak everything... and even though i havent done it yet this rom is still fast and has alot of ram... so give her a flash and let me know what you find... ALSO GUYS I TOOK LANGUAGES OUT OF FRAMEWORK SO IF YOU NEED THEM FLASH THE PATCH BELOW AFTER THE ROM... THERE IS ALSO A PATCH FOR HTCLOCATIONS BECAUSE I HAD ALOT OF REQUEST FOR IT BACK.... ENJOY




v3.0.2


fixed issue with mms
fixed widget list size
fixed contacts list not showing when typing
adjusted camera settings
updated build prop
fixed DSPmanager
added more speed tweeks
adjusted audio and video configs
and a few more thingsi dont remember right now


v3.0.1


Fixed mms over 3G and wifi
Fixed mail.apk
added more speed tweaks(Trust me you will notice)
added quicklaunch by default(Its in widget list "Shorcuts and clock")
added option to switch to bliss rosie on the fly steps as follows ( go into setting/applications/all) find "HTCsense" tap it scroll down till you see "clear defaults" tap it then "press home key" and the option to switch rosie will pop up
small update but needed and worth it
full wipe guys!!!!! hopefully nothing big pops up bug wise and the rest will be flashover


v 3.0.0


new base Sensation XL/runnymede
EXT 4 dress kernel #20
Deodexed
zipaligned on boot
SDcard speed tweak
all languages removed except english
highly optimized
added all the Tweaks original base had(now when you select a app for right rosie button it will change the name to that app)
No more data bugs
HUB fixed
autobrightness fixed
oriantation animations added back
alltogether great rom
full wipe is required!!!!!




NEW BASE BREAKS USB MOUNT TO PC I ADDED AUTOMOUNT TILL I FIX IT






v2.1.0
Added option to switch lockscreen styles ASOP/Honeycomb
Added better Beats driver (heavier bass)
Sped up framework more
Added 4 in Reboot to quicksettings
Adjusted autobrightness more
Wipe caches only


v2.0.1
Now Ext 4
Custom ext4 kernel by Dressilldee #20(fast as hell!!!!!!)
deodex(for now)
All apks Optimized and repackaged for speed and better ram
ziapaligned on boot
adrev OC daemon
went back to white background on quick settings
added more quick settings (you can now toggle all media volumes by tapping the volume icon on the menu,wireless adb,rebootmenu, and so on)
added beats back in its now enabled with all sound effects
modified the framework to run off of VZW network and the following verizon services
Rewrote all default settings to be verizon specific
Modified data driver to work on cdma only(for better connection till i rewrite the framework for WORLD later on
Myverizon
Visual Voicemail
Backup Assistant
3G Hotspot
Verizon tutorial videos in setup wizard
Modified the data partition to support system apps for easy removal by uninstalling(all all verizon apks and other bloat can be uninstalled from settings)
Fixed Auto Brightness(old battery mods will break this)
Updated all market apps
Rebuilt the entire file system
Took out Locations nothing but a space and memory hog
Removed a lot of useless apks
Took out pen
took out debug
Added Netflix
Added mybackup root
Added mikroms maxathon browser
Added our custom rosie with miktab
Took out beta SU and added official version
added newer DSPmanger from CM7
all i can remember right now im sure theres more
FULL WIPE GUYS SWITCHING TO EXT4 SO ITS A MUST!!!!!!!!




v1.0.1
fixed download notification bug
fixed front face cam
fixed video chat(gtalk)
fixed su outdated
added more tweaks to settings(same as the patch)
took out beats added EQ and and better srs settings insted
added speed tweaks to framework
fixed browser tabs
fixed streaming while using headset
updated build prop
adjusted sound during calls and music
fixed DSPmanager
fixed always full signal bars


PATCH
Adjust tweaks(added option for screen to come on when recieving message)
Browser tabs fixed
adjusted camera for better quality
added speed tweaks to framework(alot snappier)


V1.0.0
comepletely rebuilt
added quick settings(inverted by default)
added coding from rcmix(tweaks in settingsits amazing you dont need mods with this it does it all right there)
examples of tweaks
rosie remaps
change battery colors and sizes(plus add percent)
adjust auto brightness
personalize quick settings to your liking
the list goes on and on ill add more to op in the morning you will see for yourself tho
added new ramsript for better ram management
updated build prop and updater script
rewrote default settings for US
added better battery calibration on first boot
took out deamon controller
fit all system apps back into system like it comes stock
added more sound drivers
all i can remember right now guys ill added more later i changed a lot of things. im sure you will enjoy it

[/SPOILER]
Features
Sense 3.5
gingerbread 2.3.5
Zipaligned on boot
Ram Script
Battery calibration
Special tweaks in settings(examples below)
abililty to change to trans background
rosie settings(right button remapable
add batt percent
hide/move clock
remove am/pm
overscroll options on the fly
and more
Tons of quicksettings(with the ability to personalize them in tweaks)
advanced power menu
beats by dre audio(all effects enabled also Dolby,SRS,EQ,Beats full time)
3D homescreen option

Credits
HUGE thnks to Cappychimp for sharing his secrets with me to make this possible
HTC love you guys
and of course google
Ok guys as always i am not responsible for what happens to your phones....
I also want to think you all for the support you have giving me and the site its appreciated!!!! enjoy!!!!!







INCREDIBLE 2 HD RLS 1
Screenshots
Show Your Support
This modification may not be copied, reproduced or published elsewhere without author's permission.